How to make full use of QR codes in your full-service restaurant?
While QR codes have been around for a while, their value, utility, and importance in the restaurant industry have only recently been thrust into the spotlight thanks to the advent of the COVID-19 pandemic.
Now restaurants of all descriptions are rushing to incorporate QR codes into their restaurant experience, and for good reason. These useful codes can not only level up the customer experience, but they can also help to streamline your operations as a restaurant owner.
With that in mind, let's walk you through how you can extract the most value out of this technology in your full-service restaurant.
Make Restaurant Dine-In Ordering Safer and Easier with QR Codes
As a restaurant owner navigating this reopening and subsequent post-COVID period, you are acutely aware of the need to keep your customers safe from the threat this virus poses. In this regard, QR codes may well be your best friend. They reduce the health risks associated with dining by minimizing the touching of shared items such as menus.
Paper menus are usually the dirtiest items in a dine-in environment, which is why the National Restaurant Association guidelines recommend that you use digital menus. The good news is that all you have to do is add a QR code to your restaurant menu (or even better to the corner of each table) and the whole ordering experience becomes contact-free.
Once scanned by their cell phone, they open up an online menu and take advantage of the connected back-end restaurant mobile ordering technology to place an order with a few clicks. Thus, the need to view a disposable menu, have contact with a server, or share cash or cards between individuals is eliminated, creating a far safer and more efficient dine-in experience.
You benefit from less paper waste, better protect your staff by limiting interaction, receive order tickets to the kitchen in real-time, and take payments in a more streamlined manner.
Provide a Seamless Takeout and Restaurant Curbside Pickup Experience with QR Codes
QR codes aren't merely a tool for providing contactless dine-in experiences at your full-service restaurant. They also make sense for takeout and curbside pickup too. Once again, all it takes for a customer to begin the online ordering process is to open up their cell phone, scan the QR code, and within a few seconds, they will be presented with your digital menu.
A few clicks later, you will have taken payment, received the order ticket, and your kitchen team will already be making a start on prep as your customer gets ready to leave their home to come and collect. You can then complete the touchless dining experience by taking a contactless NFC payment using a handheld POS terminal when the customer arrives to pick up their order, should they not wish to pay online in advance.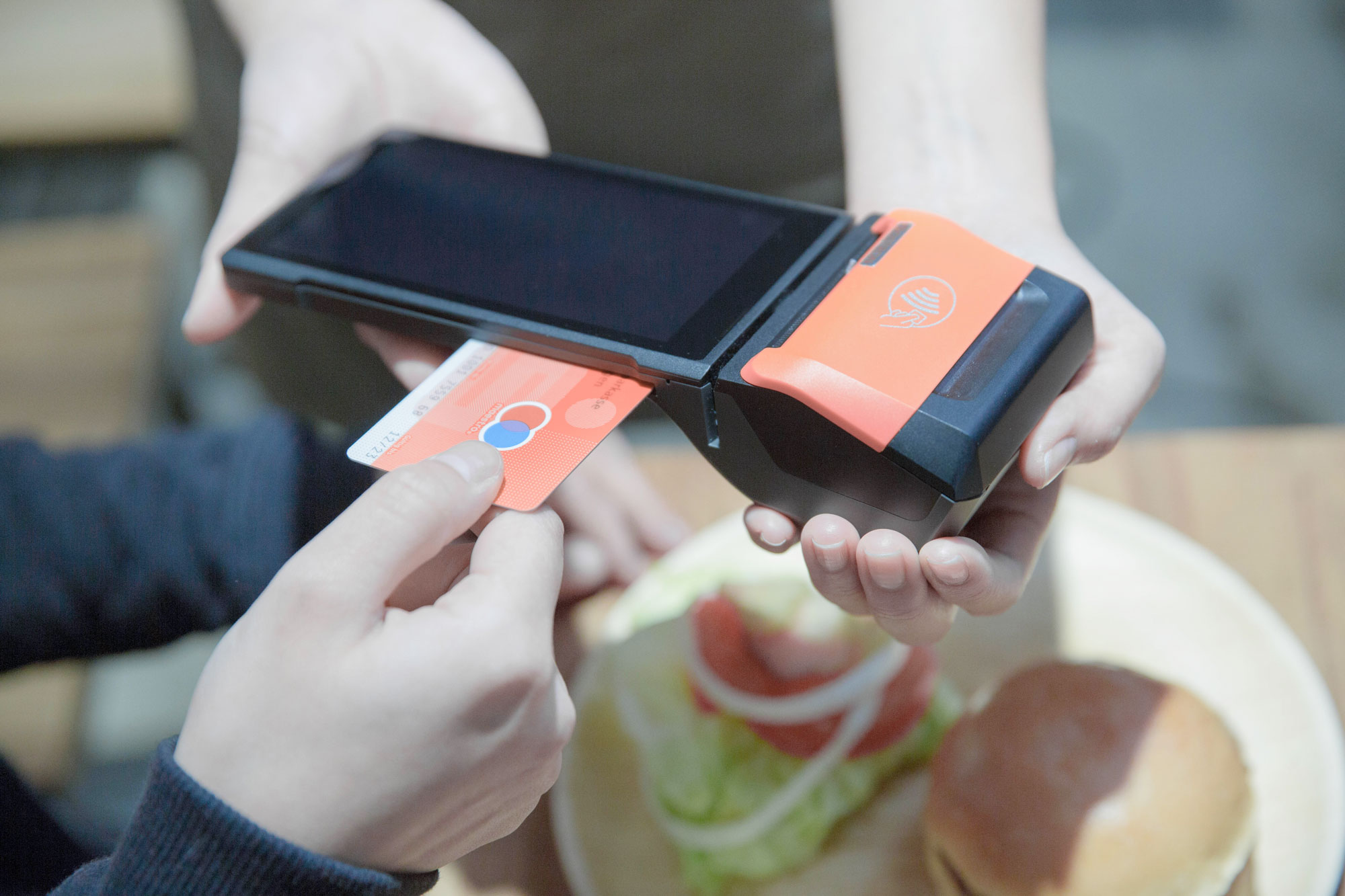 Remember, there is no requirement for your customer to have downloaded any specialist restaurant technology such as an app, all they need to do is open the camera on their phone to get started.
Use QR Codes to Facilitate Safer Payments
While QR codes are vital pieces of the customer ordering experience, they also help create safer payment environments. We've already mentioned that buyers can scan a code and pay their bill directly from their mobile device, meaning your restaurant and store staff won't need to touch credit cards or cash.
However, putting health concerns aside, it also eradicates the trust issue that some diners have with restaurants that walk away with their cards in order to process payment at a central POS kiosk. While fraud is extremely rare, it's still a concern for many diners. The good news is that you can easily take care of these worries by offering QR codes that keep customers in control of their money.
Better yet, implementing QR codes helps customers to give their servers contactless tips, protecting your staff members from the health threats posed by handling cash.
Incorporate QR Codes into Your Restaurant's Marketing Collateral to Improve ROI
While QR codes undoubtedly improve the customer experience, they are useful in many other ways, particularly when it comes to marketing. One of the most effective restaurant marketing methods is dropping flyers or using direct mail campaigns to reach potential customers in the vicinity of your restaurant.
However, printing and sending out hundreds or even thousands of bulky restaurant menu designs is not only expensive, but it's also cumbersome for the customer on the receiving end. By attaching a QR code, you can significantly reduce the size of the flyer or poster you need to print, focus your limited marketing copy on persuading customers to dine with you, and you can intrigue customers into engaging with your brand by hiding the menu within a QR code.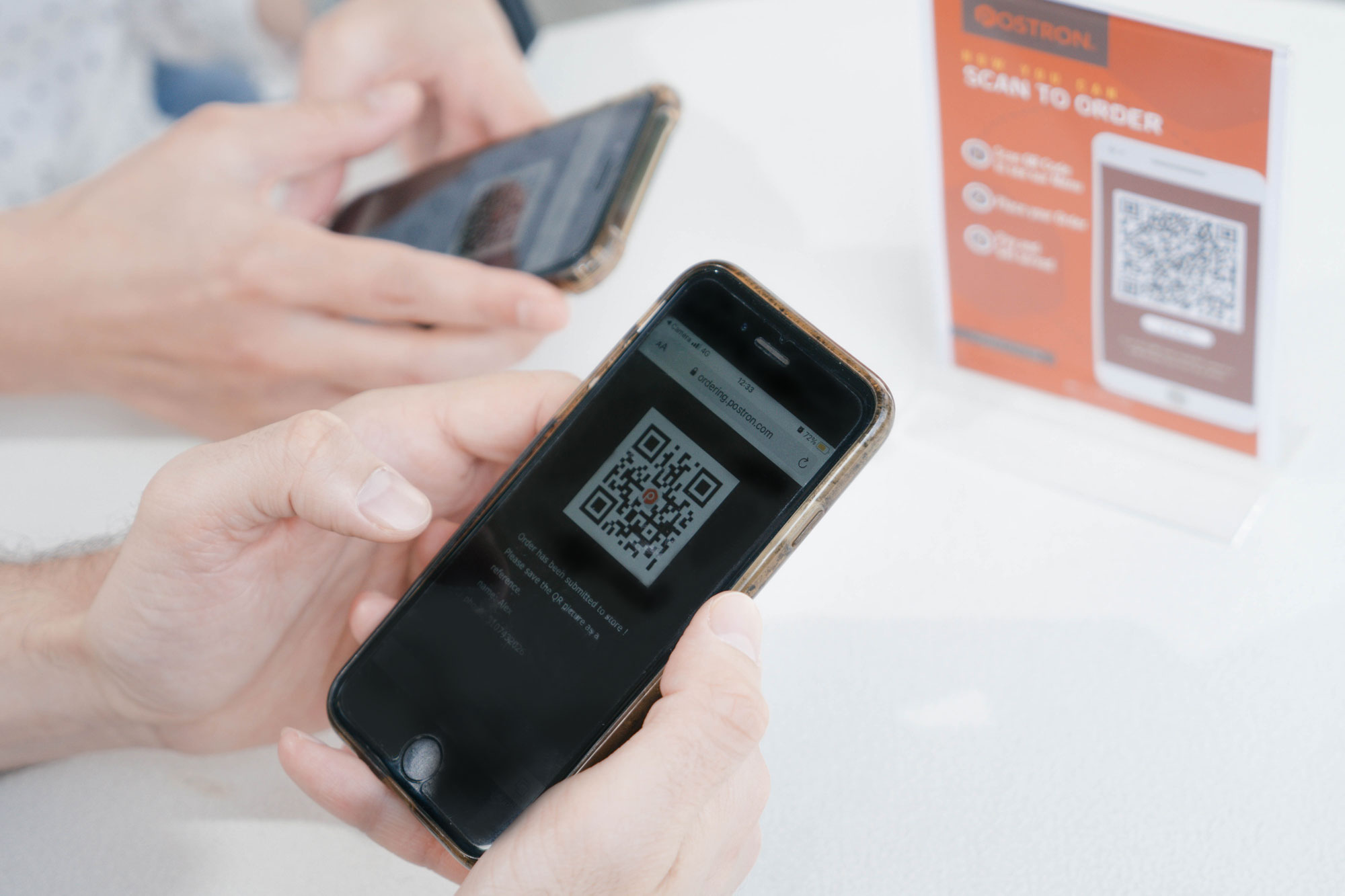 Consequently, you will be able to increase your reach by ordering smaller flyers and increasing the delivery radius with the budget surplus created. Secondly, you can increase sales by lowering the barrier to checking out. A QR code means that they can order in just a few short clicks. It eliminates the need to wait on the phone or drive over to your location to place an order.
With lower marketing costs and increased orders, adding QR codes is a sure-fire to improve the ROI you achieve on your marketing campaigns.
Extract the Most Out of QR Codes with POSTRON
QR codes provide a safer and easier way for customers to dine and interact with your restaurant. From providing a higher ROI on your marketing campaigns to providing a faster and safer way to experience your food and drink offerings, restaurant owners are already reaping the benefits of implementing this technology into their locations.
At POSTRON, we make implementing QR codes into your restaurant business easy. By enabling the self-service function on your POSTRON POS system, you can immediately begin printing and placing your QR code in your restaurant and wherever else you may want to incorporate it.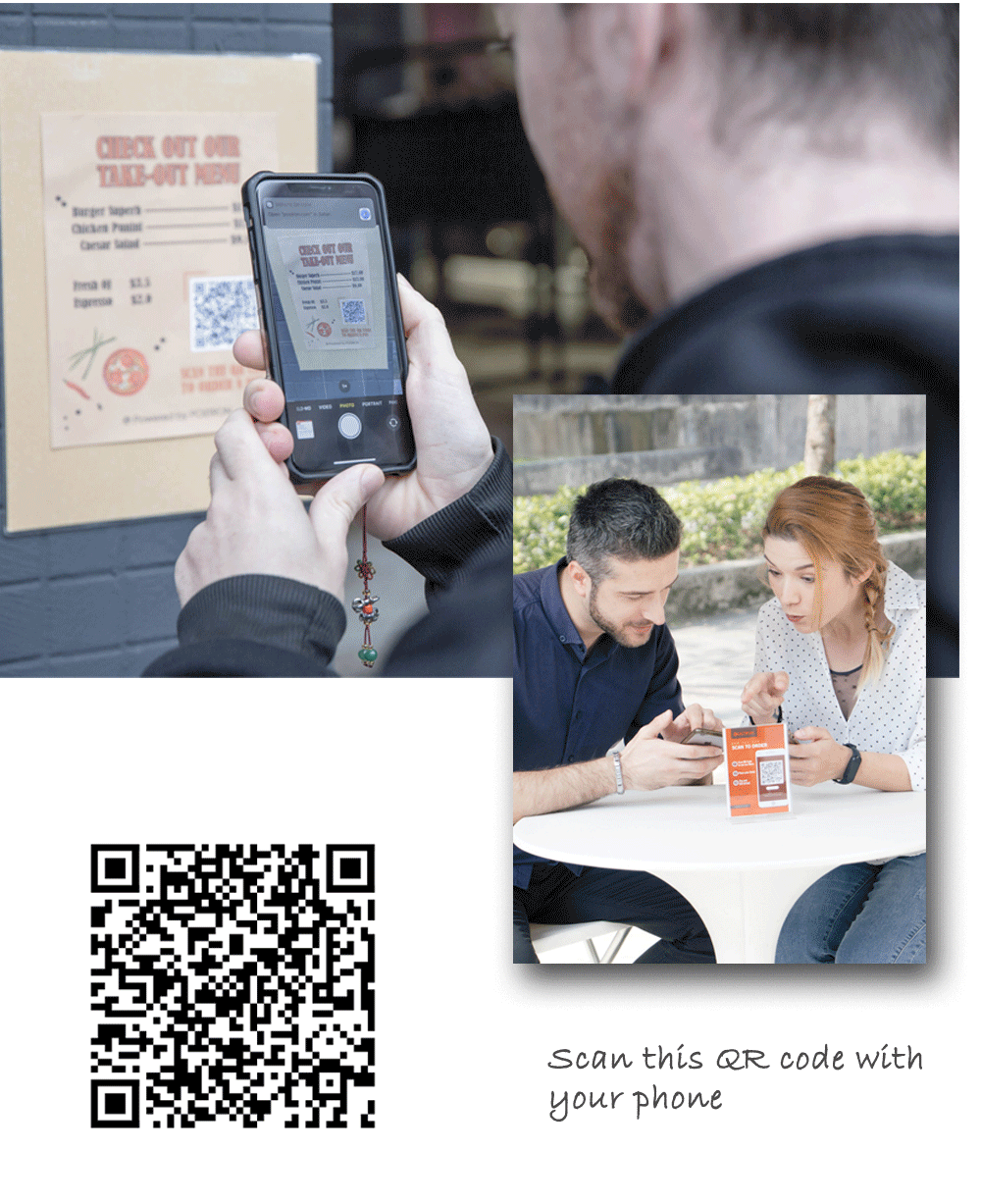 By doing so, you allow your customer to order and pay from the comfort of their smartphone. No kiosk or any other type of equipment is needed.
By implementing POSTRON's online ordering features (including QR codes), you:
Allow customers to order and pay on their smart device while tickets are sent directly to the kitchen.

Can provide customers the ability to view the menu, start ordering, and even customize their order while waiting to be seated.

Benefit from shortened queue times, reduced contact, and streamlined service.

Spend less time processing payments to increase the number of customers being served and improve your table turnover rate.

Offer tip calculation options for your customers that eliminate any confusion around tips.

Free up your waiters/waitresses to focus on customer experience.
So if you're looking to harness the power of QR codes in your restaurant business, why not contact a member of our team to arrange a free demo?