Why you should not rely on third-party delivery platforms
When third-party delivery apps such as Grubhub, DoorDash, and Uber Eats, first arrived on the scene they seemed like a silver bullet for many restaurants. For just a small fee, you could acquire and fulfill online orders for customers without having to invest in delivery drivers or a bespoke restaurant ordering app.
However, several years later, the model seems to have become broken. In many cases these platforms are causing restaurants to lose money and suffer reputational damage.
So why is this the case, and how can you implement a better online ordering solution so that you can capture that much-needed additional source of revenue?
Why Third-Party Platforms Hurt Rather Than Help Restaurants
As alluded to, what started out as a potential match made in heaven has since turned rather sour. There are several reasons why you should avoid third-party apps when trying to grow the takeout portion of your restaurant business, as we'll now explain.
#1: Platform Fees Are Steep, Eating into Restaurant Profitability
There's no getting around it, the transaction fees associated with doing business with these platforms are prohibitively steep. Third-party apps and websites often demand as much as 30% for each order, leaving you with wafer-thin profit margins, or no profit at all on some meals. What's worse is that high-margin items such as wine are left off takeaway online delivery orders, leaving no wiggle room to take the hit left by the fees they charge.
With the pandemic changing dining habits, delivery and takeout is set to make up as much as 40% of restaurant revenue by 2022. If you plan on working with these third-party platforms, you should be aware of how much these fees are going to eat into overall restaurant profitability – especially if the number of dine-in customers continues to decrease.
With many of these apps and websites not yet reaching profitability themselves, can you afford to piggyback off their platforms given they could disappear at short notice?
#2: The Third-Party Platforms Don't Suffer Reputational Damage – Your Restaurant Does
Did you know that 82% of consumers will blame the restaurant, not the delivery service when something goes wrong with a food delivery? That's a lot of potential negative feedback to take on board for issues that may have nothing to do with the performance of your restaurant. Cold food, driver errors, no-shows, all these complaints could come back to haunt your restaurant, regardless of whose fault it is.
Not only do you have to field the complaints from the actions of individuals outside of your control, but you have to contend with poor reviews on social media and Google. We don't need to tell you that even a few one-star reviews can completely sully the reputation of your small, local restaurant, hitting your bottom line.
#3: You Receive Little to No Engagement with Your Brand
Perhaps one of the most significant issues with relying on third-party apps for online orders is that they hardly interact with your brand, if at all. All you have to give them is a photo of your logo, pictures of your food, your menu, and that's about it. Even the menu will be presented in a uniform, app-friendly format that doesn't bear any resemblance to your branding.
In fact, they aren't really your customer at all. They are a customer of the app. They pay for the app, the app gives them updates about their order, and the only time to interact with your restaurant in any meaningful way is when they taste your food.
In other words, your so-called customers are missing out on almost 100% of your restaurant experience. They don't interact with your staff, they don't enter your premises, and they don't ever see your version of the menu complete with restaurant branding.
Worse, you can't market to them after their purchase. The third-party platforms keep all of the data, such as email addresses and phone numbers. All you receive is an order. Well, just over two-thirds of an order once they've taken their cut. Marketing your restaurant is hard enough, but it becomes close to impossible when you can't even reach up to 40% of your customers.
So what's the solution? If you haven't already guessed by now, it's pretty evident that you need to build your own online and mobile ordering capabilities for your restaurant. The good news is that, with the right POS system, setting this up is a cinch.
The Solution? Building Your Own Online Ordering System for Your Restaurant
Imagine implementing a system whereby you received the same volume of online orders, but they came through your system, you kept 100% of the profits, and you retained the ability to market your customers via restaurant reward programs and other such incentives?
It's not just possible – it's relatively straightforward. All you need is a POS software solution that can make it a reality, such as the one provided by POSTRON. All you have to do is activate the self-service option and fill out the menu details (there's even a menu template on your personal account page), and the software will handle the rest.
It will create a QR code for the restaurant menu, which you can display anywhere you want, and a quick scan will launch a mobile-friendly online ordering page, allowing you to provide your own food delivery, takeout, and curbside pickup services. Customers can even pay there and then on their smartphones, just as they do with traditional third-party apps. No waiting around on the phone to place an order. The order can be executed and already in the kitchen within seconds.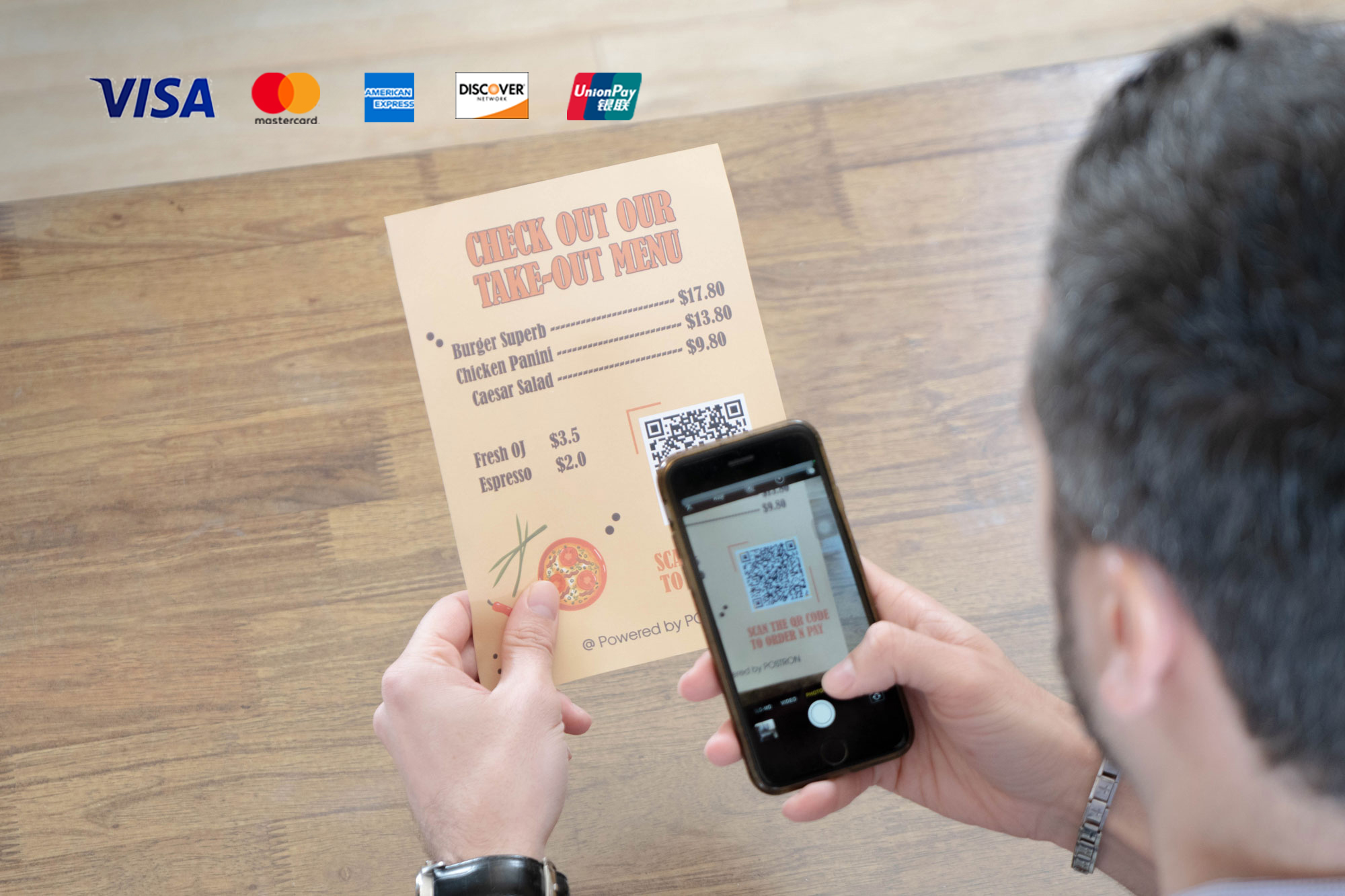 What Are the Benefits of Using Your Own Online Ordering System?
Once set up, there are several benefits that you will notice right away. They include but are not limited to:
● Order uniformity: No more hopping between third-party apps and systems. Everything comes through your POS system and is sent directly to your kitchen team within seconds.
● Reduce orders taken by phone: If you operate a dine-in restaurant, the last thing you want is servers tied up on the phone. With an online ordering system, the orders come in on auto-pilot while your servers focus on your dine-in customers.
● Increase customer loyalty: Your online ordering system means your online customers. You can use your POS data analytics to create targeted reward programs, offers, and discounts based on previous spending patterns. Better still, you can send those promotions directly, as you will have access to their contact details.
● Regain control of the restaurant experience: With your online ordering system, you regain control of the restaurant and brand experience. You can set expectations, deliver the same level of service you afford your dine-in customers, and ensure that customers are happy.
This list is by no means exhaustive. These are just a few of the many benefits afforded to you as a restaurateur operating your very own online ordering system.
Contact POSTRON Today to Learn More About Implementing Online Ordering System for Your Restaurant
While third-party apps seemed like an excellent solution to online food deliveries, restaurant owners have soon realized that working on these platforms is counterproductive. If you're like many other business owners searching for a better solution, then it might be worth speaking to a member of our team here at POSTRON.
Our industry-leading POS system delivers easy online ordering, with the option for customers to pay for their order on their smartphone. Why not set up a free demo to learn more about how our system helps you take back control of your online orders?