7 things you should focus on when comparing POS products
When comparing the best restaurant POS systems, the number of comparable features can seem endless. Which begs the question, what should you be really focusing on as the owner of a dining establishment?
While it's useful to look at the system as a whole, taking a closer look at the physical products is always a good idea. Doing so will help to determine the POS system's suitability to your restaurant. With that in mind, we've compiled seven critical components you need to assess when evaluating POS products.
1. Ease of Use
The top of the list when it comes to the assessment of POS products is the ease of use. Implementing a new POS system is ten times harder if you have to spend multiple days training your staff to use the associated products.
The training costs alone could soon outweigh any benefits gain by utilizing a new suite of POS products. Think about it, if you can't understand it yourself without a great deal of support and guidance, how long do you think that you're going to spend on explaining how they operate to your staff?
When it comes to your devices themselves, they need to offer intuitive operating systems that are pretty much pick up and play. Menu set up, prices, and taxes should all take a matter of minutes to set up. Then all you need to do charge them up (for handheld terminals), connect them to Wi-Fi, and off you go!
2. Customizable to Meet Your Specific Needs
Some POS providers try to take a one-size-fits-all approach to their products, whether you're a quick-service restaurant chain or a single fine dining establishment. But that doesn't make sense for several reasons.
In those two scenarios, the POS product requirements are going to be completely different. The quick-service restaurant may need to have several handheld and countertop POS products that focus on taking payments more than anything else. Whereas, the fine dining establishment may need a suite of POS products that handle everything from inventory management to loyalty programs.
Therefore, it's essential to look for flexible and customizable POS products that can meet the specific needs of your restaurant.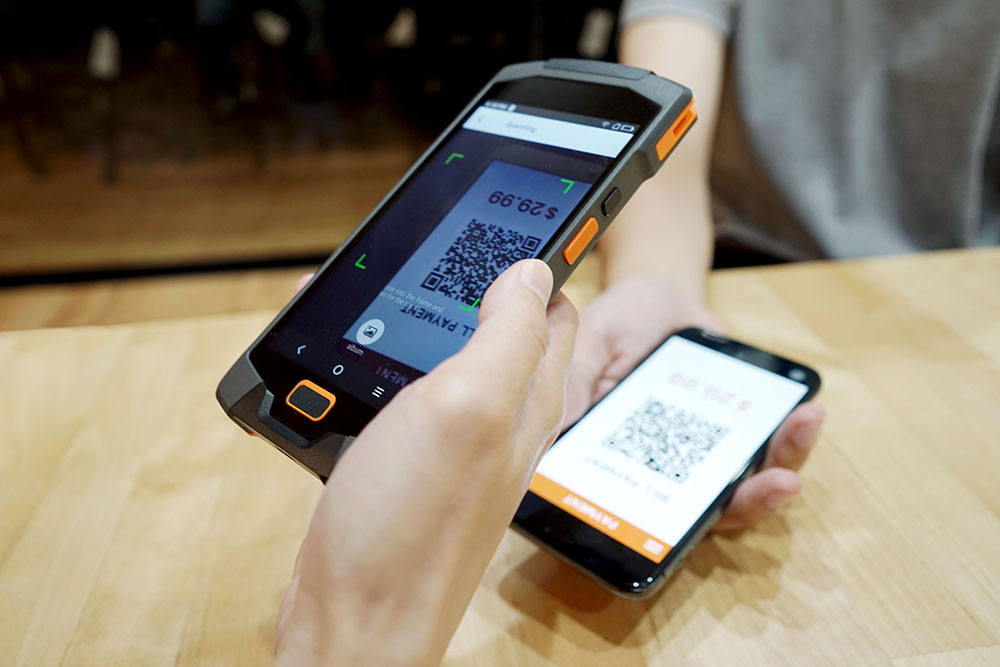 3. Handheld Terminals
Many restaurants can no longer afford to rely on countertop POS products to process payments. In dining establishments where speed is the primary concern, handheld terminals are a must. They also make sense in large establishments where the restaurant floor plan is so extensive that forcing servers to walk to and from a central POS terminal is inefficient.
In the COVID-era, mobile POS devices also facilitate curbside pickup and payments for on-site orders placed through the restaurant online order system. In this day and age, handheld POS products are a must.
4. Multiple Payment Methods
The primary function of all point-of-sale products is to take payments. If your POS products are limited to one payment method, you're going to turn off customers and get left behind by competitors. This is one of the most significant drawbacks with POS systems on iPad, as they are frequently limited to taking payments through a card swiping attachment.
However, the latest countertop and purpose-built mobile POS devices can accept strip cards, EMV chip cards, and NFC contactless payments. The latter feature is a crucial tool in eliminating unnecessary shared touchpoints during the global pandemic. It's also a vital feature of the FDA's "no touch" food pickup protocols.
5. Quality Of On-Board Software
Of course, POS hardware is still very much dependent on the quality of the on-board software. Some POS products are focused on accepting orders and payments only. While that's great for a few dining concepts, most restaurant owners need a lot more from the software operating their products.
For instance, some owners may rely on their POS system to monitor employee hours and performance, administer and track customer loyalty programs, or run the inventory management side of the business. Today, the best restaurant POS systems provide all of that information and more on their products in real-time. Pretty neat, huh? Given that this is the case, you should never settle for any less.
6. Reliability During Peak Hours
A critical prerequisite of any POS product, be it desktop or handheld, is that it performs under pressure. During peak hours, if your POS products or devices let you down, then you could be losing hundreds, if not, thousands of dollars in unprocessed payments.
Leading POS companies ensure this doesn't happen by firstly building robust products that keep functioning smoothly during high-usage periods. Secondly, you must look for providers that harness the power of cloud-based servers to ensure that the likelihood of losing a connection at any time is minimized to almost zero.
7. Cost of the POS Products
As is the case with any business investment, the cost of POS products is always going to be one of the most significant aspects that you're going to focus on. It's the case with some POS providers that you have to pay monthly fees for access to the software before subsequently spending hundreds of dollars for each piece of POS hardware.
However, leading providers such as POSTRON have revolutionized the market by offering POS devices for as little as zero dollars down. By not having to invest any money upfront in your POS products, you can allow them to pay for themselves almost immediately. You can then use that saved money to invest in either further POS devices or any other mission-critical areas within your restaurant business.
Choose Cutting-Edge POS Products That You Can Rely On
When it comes to POS products, you need to choose a system that incorporates the latest technological advancements to meet the demands of the 2020s. With POS devices from POSTRON, you can benefit from the latest advances in NFC contactless payments, Amazon AWS cloud-based servers, and an intuitive operating system that includes all kinds of real-time reporting and analytics.
From facilitating curbside pickup to sending customers customized loyalty program emails, our end-to-end POS solution can help you achieve your goals in the post-COVID era. If you would like to find out more about POSTRON's state-of-the-art POS products, don't hesitate to contact a member of our team today to discuss your requirements.