POS Software For Restaurant
POS software starts from $0. Speed up your restaurant with a better experience. What you need could be as simple as an easy-to-use POSTRON restaurant POS software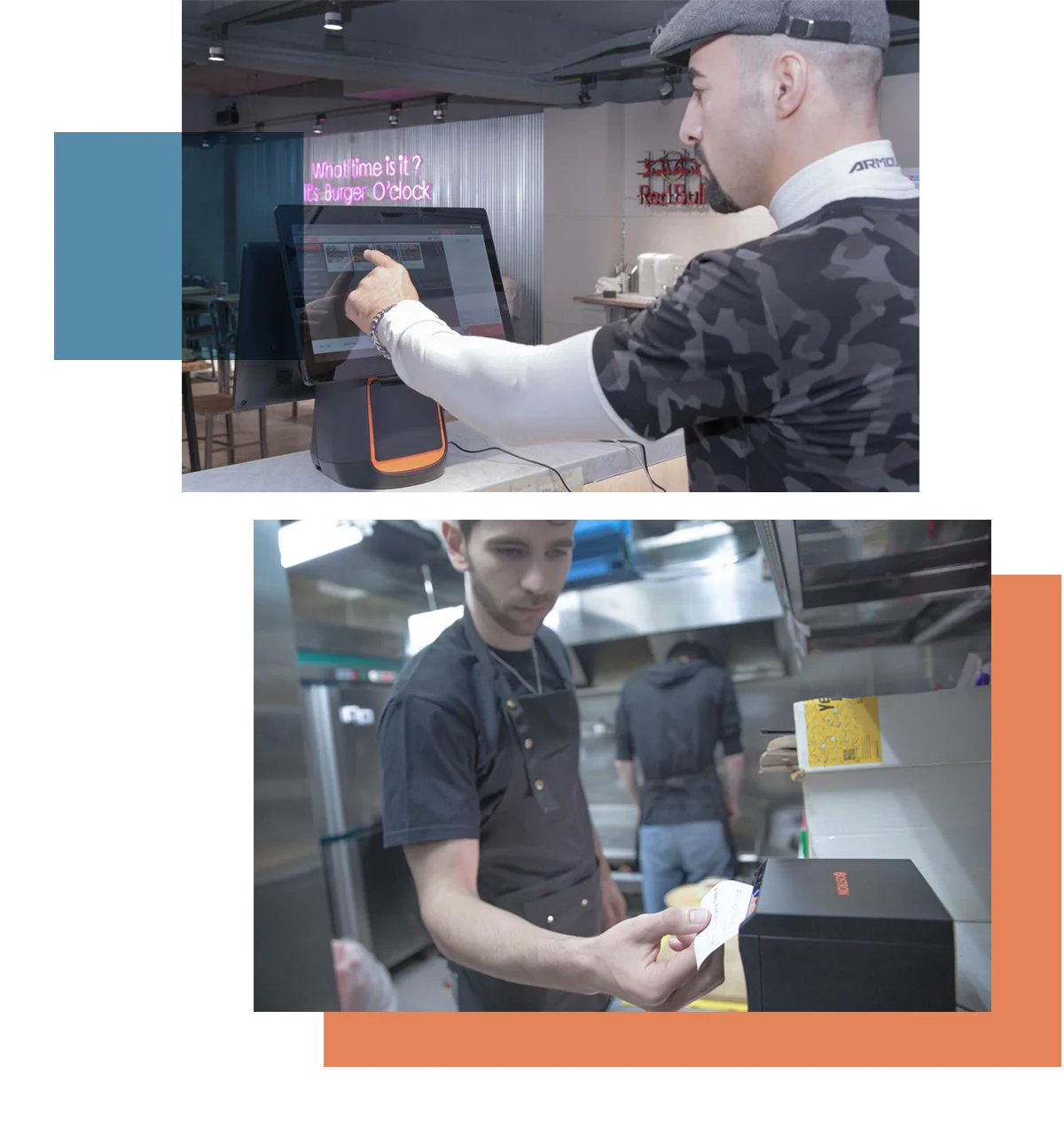 Speed up your service in peak hours
Check the availability of each table on a customizable floor map and enter orders in a few seconds.


POSTRON POS System For Restaurant makes it super easy for you to add modifiers, edit orders and split checks. You can also take payments securely from a card or a smartphone.


Integrate the POSTRON handheld POS device, countertop POS stations, kitchen printers and accessories to achieve seamless synchronization.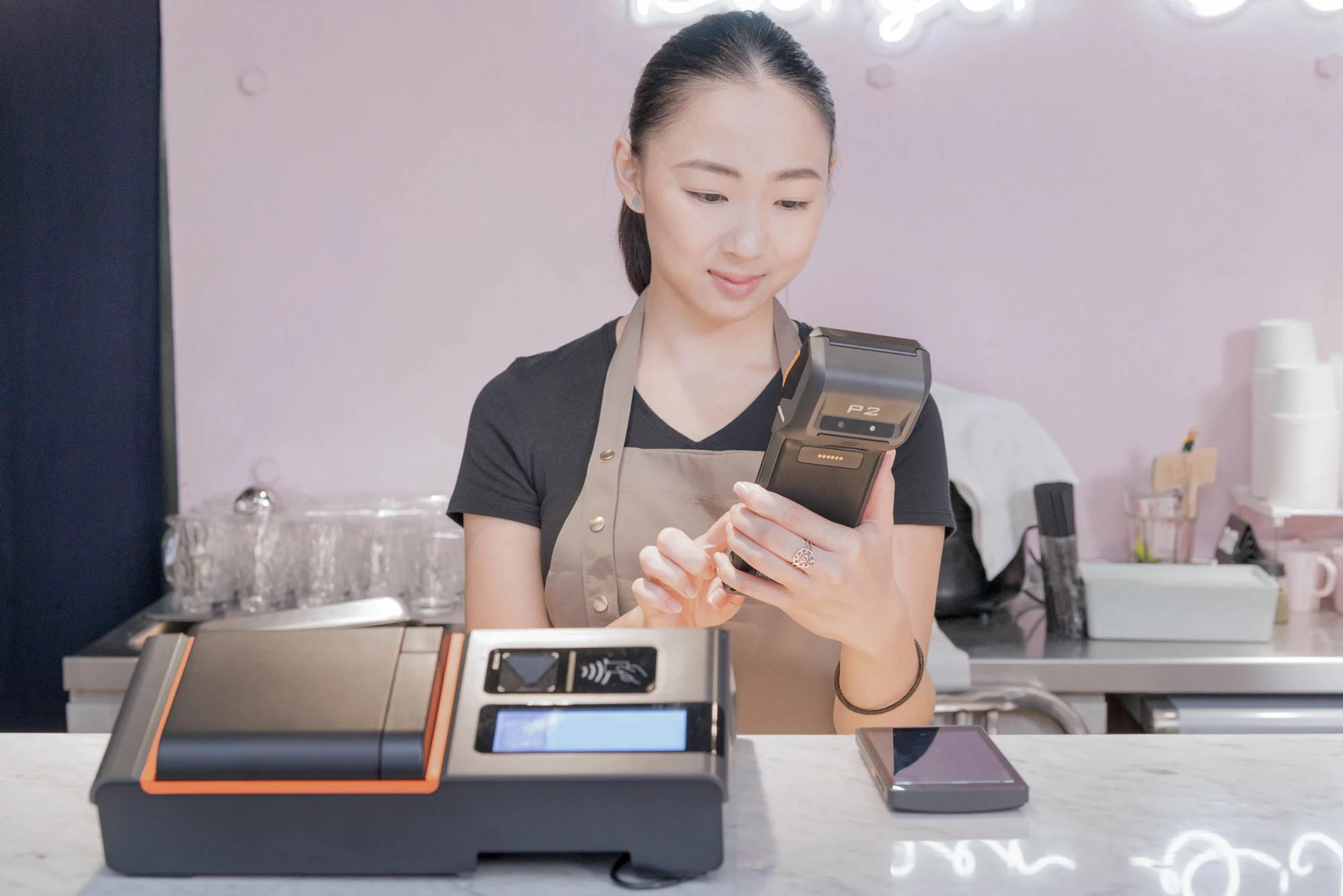 Cut costs with POSTRON POS software
 
POSTRON POS system provides a team management toolkit to eliminate scheduling errors and track the performances of your staff.

Mitigate the negative impact of food inflation by doing business in a smarter way. Input the inventory level and costs for each item you sell while creating the menu for better control.

Encourage direct ordering by setting up discount rules for specific time periods, item categories, or items.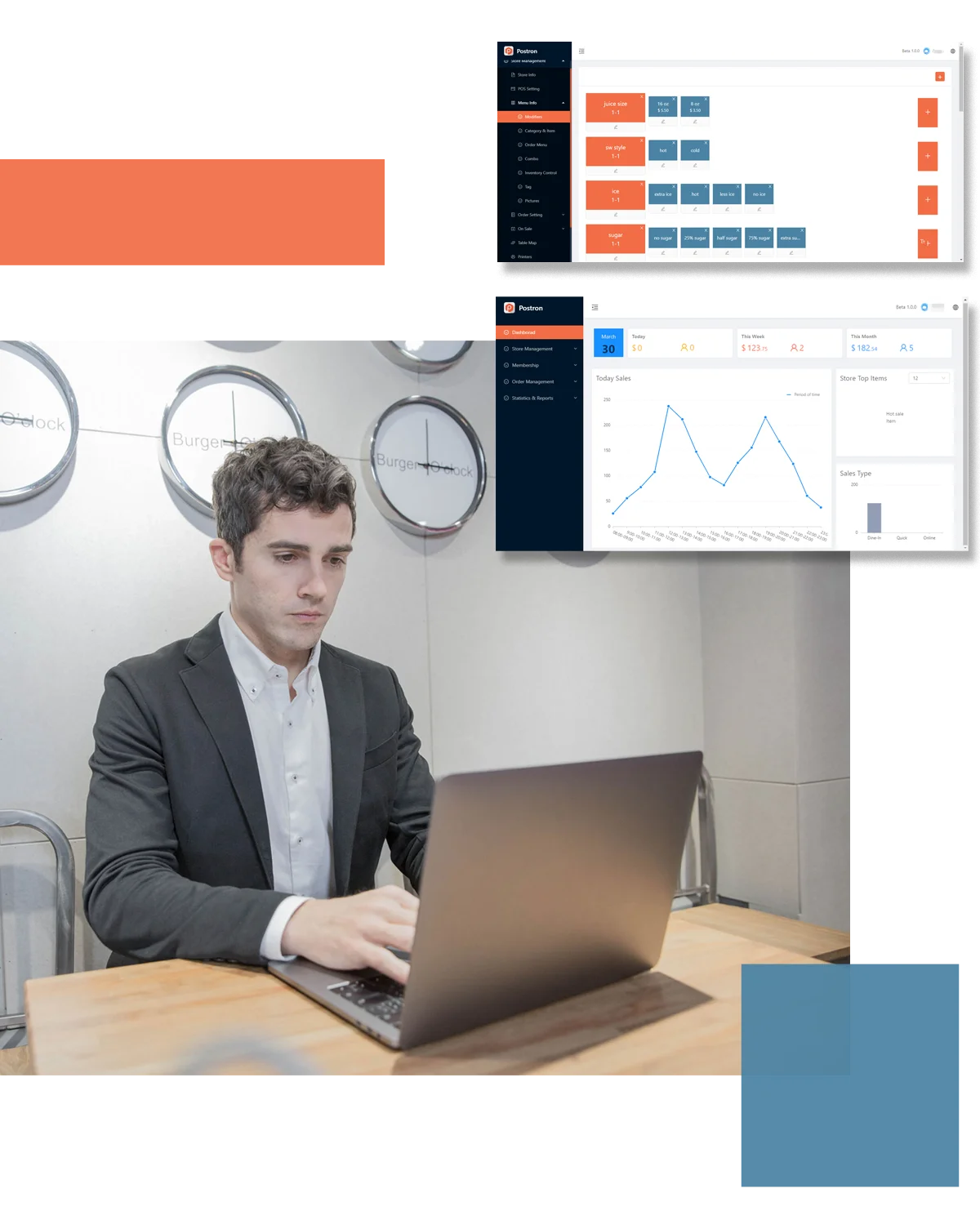 Derive insights from sales reports
 
POSTRON POS Management Platform will show sales summaries, top-performing product mix, and other KPIs on one dashboard in an easy-to-understand way.

Segment your customers based on their preferences and purchasing behaviors.

Send out newsletters/text messages to designated customers to achieve a high conversion rate.
Choose a plan of
POSTRON POS System for Restaurant
POSTRON POS Software Features
Easy menu set-up
Add items & descriptions, set prices, and edit the menu whenever you want with a real-time update.
Set modifiers & combos
Add multiple modifiers to your items and combine several items to make combos.
Tag your items
Categorize your popular items, seasonal food, and new releases on the menu for quicker access.
Interactive table map
Open a table, update service status, split/merge checks, and track orders on a customizable table map.
Mobile ordering
Customers can scan the QR code to view your menu on their mobile devices and make orders without consulting your staff. It will help in keeping a social distance and avoiding menu sharing.
Support contactless payment
Accept card payments and NFC payments, including Apple Pay, Samsung Pay, and Google Wallet. Use a wireless credit card terminal to complete the checking and tipping process by the side of your customers instead of taking cards away from them.
Customer display
Show the order summary, total price, and tip suggestions on the second screen.
Handheld POS devices
Allow your staff to take orders on a handheld device and synchronize the information with your countertop terminal as well as kitchen printers.
Add surcharges
Set the rate of service fee and any other types of surcharge.
Offline mode
Take orders and accept payments during an Internet outage and have your information uploaded automatically once the Internet connectivity is restored.
Open a tab
Help customers order drinks and food at the bar or while they are waiting to be seated, then add the tabulation to the final bill.
Categorize dine-in/take-out orders
Check the orders received from dine-in and take-out customers on one screen.
Track order status
Track all the orders in process and set a time range for clearing orders history.
Tip suggestions
Boost your revenue by presenting the percentage and the number of suggested tips.
Happy hour
Create a special menu for your happy hour. You can choose to apply the special prices and discounts automatically or manually.
Send orders to kitchen printers
Send the order information to the designated kitchen printer to achieve higher operational efficiency.
Send targeted newsletters
Segment your customers based on their preferences and purchase behaviors, then send email/text messages to specific customer groups.
Build Loyalty
Have people join your membership easily by providing their emails/phone numbers. You can create a customer account in a minute and start to build up order records.
Adjust tax rate
Edit the tax rate on the management platform when you have your eyes set on a new marketplace. Ideal for food trucks.
Upload item info in bulk
Import your menu from an Excel file to the cloud instead of manually inputting it. A template is provided.
Real-time stock level
Set the inventory level of items when you create the menu in order to track the stock when you take orders.
Employee clock-in/out
Have your staff clock in and out by signing in/out of their user account with different levels of authorization.
Evaluate team performances
See the attendance rate and sales volume of each team member.
Training mode
Practice entering orders and getting familiar with the system without making actual transactions.
Data reporting
All the sales data is securely stored in a cloud-based database and accessible on PC and mobile phone.
Chain store management
Edit the menu, launch a marketing campaign and check the sales revenue of any store in your chain on a unified dashboard.
/inc/inc_footer_other.html